Blog
Once used parcel cages now available
28 January, 2020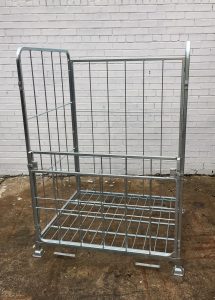 The UC1021P, a once used heavy-duty cage pallet/ parcel cage, is the latest and one of best value products in stock today.
Priced from: £75.15 EX VAT and carriage
Size: 1000 x 1200 x 1680mm o/h, 1570mm I/h.
Fork guides on front and back of unit
Removable half drop down gate
Bright Zinc plate finish
The removable half drop down gate allows the user to easily access the unit, with risk of injury being reduced by not having to lean over into the cage to pull items out. This allows the unit to be used as a three-sided or four-sided parcel cage.