Storage and Parcel Cages
Strong, reliable, and easily stowed away, parcel cages are ideal for transporting packages between distribution centres or managing arrivals and departures at either side. At Palletower, we know exactly what equipment suits each industries needs when it comes to effective storage and handling. Our parcel cages make use of the same hard-wearing materials and intelligent construction that you'll find throughout our vast product range.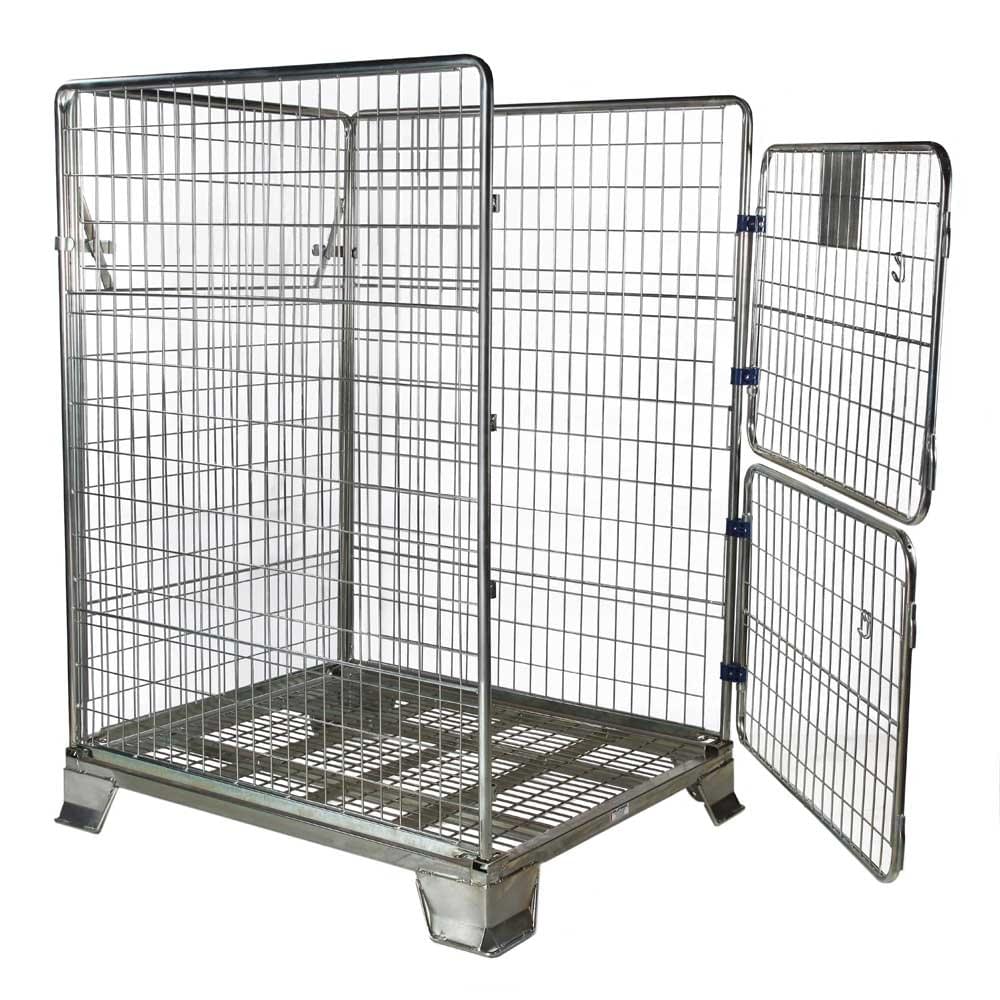 More Information
Key features
Heavy duty design. Up to 1000kg capacity

Close 50 x 100mm mesh to retain smaller products

Front gate opens through 270 degrees for ease of access

Versatile easy to assemble and use

Stackable

Ability to demount and fold flat when not in use to aid space utilisation

Ideal for handling packages and parcels within a warehouse or distribution centre

The UK's only Parcel Cage available from stock

Environmentally friendly – removes the need for packaging materials and timber pallets.
Industry usage
A versatile and robust container for moving and storing most products across a range of industries:
Automotive

Postal

Warehousing and Storage

Supply Chain and Logistics

Manufacturing
Problems our parcel cages solve
Damage to boxes and parcels – reinforced mesh sidewalls and base keeps stowed packages well protected from falls, scrapes and crushes.

Odd and inconsistently-sized products – with a rigid construction and a large load volume, parcel cages allow for the safe stacking of all manner of different items.

Difficulty accessing stowed packages – with both hinged stable doors and fully removable gates, it's easy to reach individual items whenever needed.

Trouble finding space in your warehouse or mail room – our parcel cages for sorting offices are demountable, allowing you to collapse and store them out of the way when not in use. Five units can be stored in the footprint of one when demounted.
Why choose Palletower?
At Palletower, all of our storage supplies are manufactured to the very highest standards. We've worked with businesses across a variety of industry sectors, cementing our position as a trusted global provider of handling and distribution equipment. Whether it's our parcel cages, plastic box pallets or roll pallets, we're confident we'll find something that works for you among the 250,000 items we stock.
Speak to our sales team to make your order
We can help businesses of all sizes to find a suitable solution. If you'd like to chat to the team about our parcel cages for sale or rental, including any bespoke options you have in mind, call 01619052233 or get in touch via our contact us page.