Plastic Pallet Collars
Plastic pallet collars are a simple, practical, low-cost way to instantly transform a flat pallet into a strong, durable, lightweight box or crate, ideal for storing or transporting a variety of goods, while reducing transport costs and saving on storage space.
Our pallet collars are also a great example of returnable transport packaging, helping to reduce packaging and plastic waste. Fully stackable, they are built up on top of each other around the pallet contents and compatible with both 1000 x 1200mm timber or plastic pallets.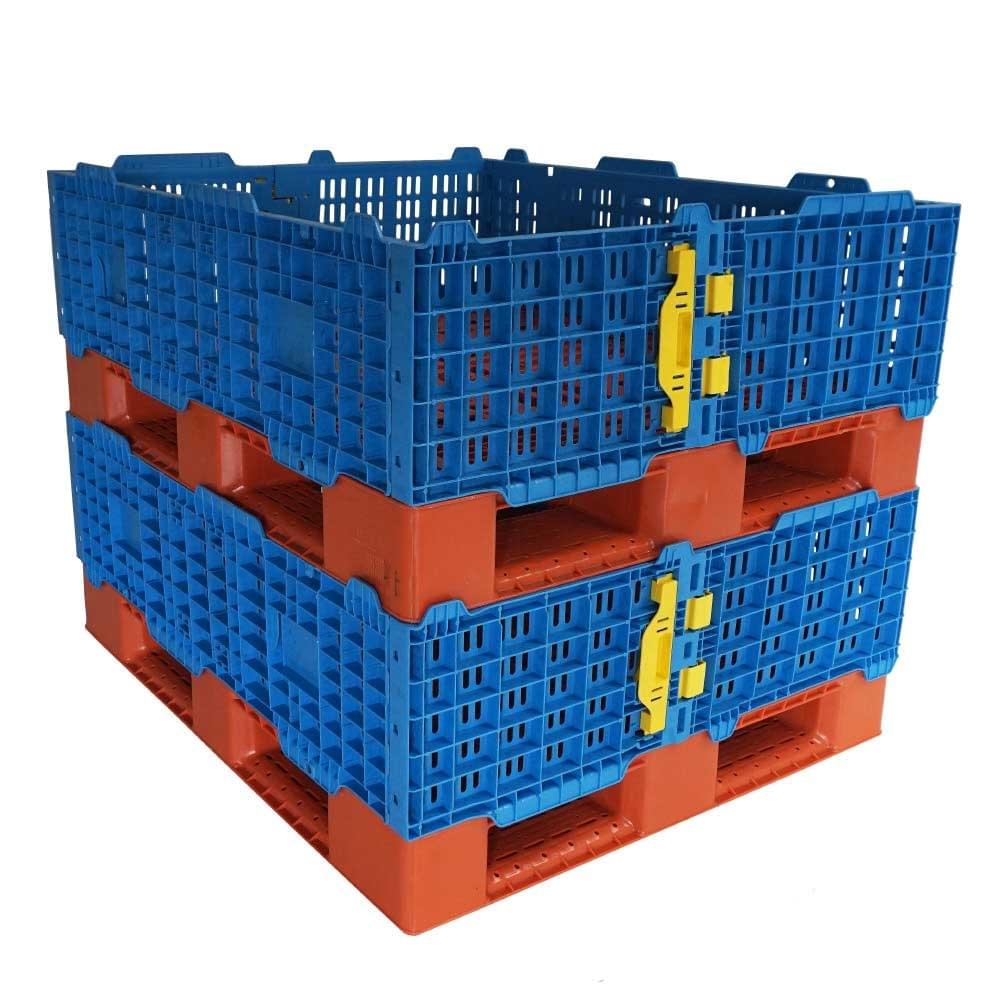 More Information
How do plastic pallet collars work?
Each collar is made from moulded virgin polypropylene, with six reinforced hinges to ensure strength, stability and durability when fitted to a pallet. The innovative snap-lock design makes clipping the collar to any pallet very quick and simple. Yet once in place, they are remarkably sturdy and secure.
Suddenly an everyday flat pallet becomes a large-capacity box pallet with sides 300mm high, perfect for storing a wide variety of goods. The hinges also ensure that plastic pallet collars simply fold down to a very space-efficient size when not in use.
Why plastic pallet collars beat wood pallets
Compared to traditional wood, our range of plastic pallet collars are lighter in weight, more attractive, more versatile, easier to keep clean and better suited to hygiene-sensitive applications.
Above all, they enable users to avoid problems with the recently updated ISPMM15 legislation. This requires all wooden packaging, pallets and pallet collars to undergo treatment to eradicate any contaminants in or on the wood, then be stamped to confirm that the wood has been treated.
All shipments from the UK to the European Union or between EU countries must now meet this standard, potentially causing supply chain delays and adding costs. Choose plastic collars and they automatically meet the new standard. Shipping can be quicker and simpler as a result.
Other benefits of plastic pallet covers
Palletower plastic pallet collars are available to fit either UK or Euro size pallets and have a host of other benefits:
Interlocking design easy to fit by one person

Strong and stable when fitted

Protect palletised items during storage and transportation

Reusable time and time again and so environmentally friendly

Nestable up to six pallets high for space efficiency

Hygienic and easy to clean – suitable for food and pharmaceutical products

Recyclable

Lightweight

Easy to handle

Consistent in size and strength

Weather-resistant, ideal for outdoor storage

Space efficient: when not in use they fold down and can be flat-packed to an 8:1 ratio

Ideal for return logistics

Smooth plastic finish – no risk of damage caused by snagging on stored items

Available to fit standard UK or European pallet sizes

Can fit wooden or plastic pallets

3 attractive colours, red, blue or green
Used pallet collars are also available
Used plastic pallet collars are readily available from Palletower. They offer an excellent, even more cost-effective alternative to buying new collars, with no compromise on quality. We consistently hold large stocks of used products and our stock levels are regularly replenished, so you can rely on immediate despatch.
The Palletower plastic pallet collars range
Why buy plastic pallet collars from Palletower?
Only Palletower plastic pallet collars have a unique patented snap lock design. This makes it easy for one person to open out the pallet collars, and collapse them for space-efficient storage when not in use. Conventional wooden pallet collars are much heavier and are likely to require two people for the same operations.
Plastic pallet collars are just one aspect of our range of storage, handling and distribution solutions in steel and plastic, ranging from roll pallets to cages, stillages and boxes. Over 100 product lines in all, making us the UK leader and Europe's most diverse stockist.
Need pallet collars immediately, or looking for a bespoke solution? Contact the Palletower team at any time.