Blog
What are Post Pallets and Stillages?
24 December, 2020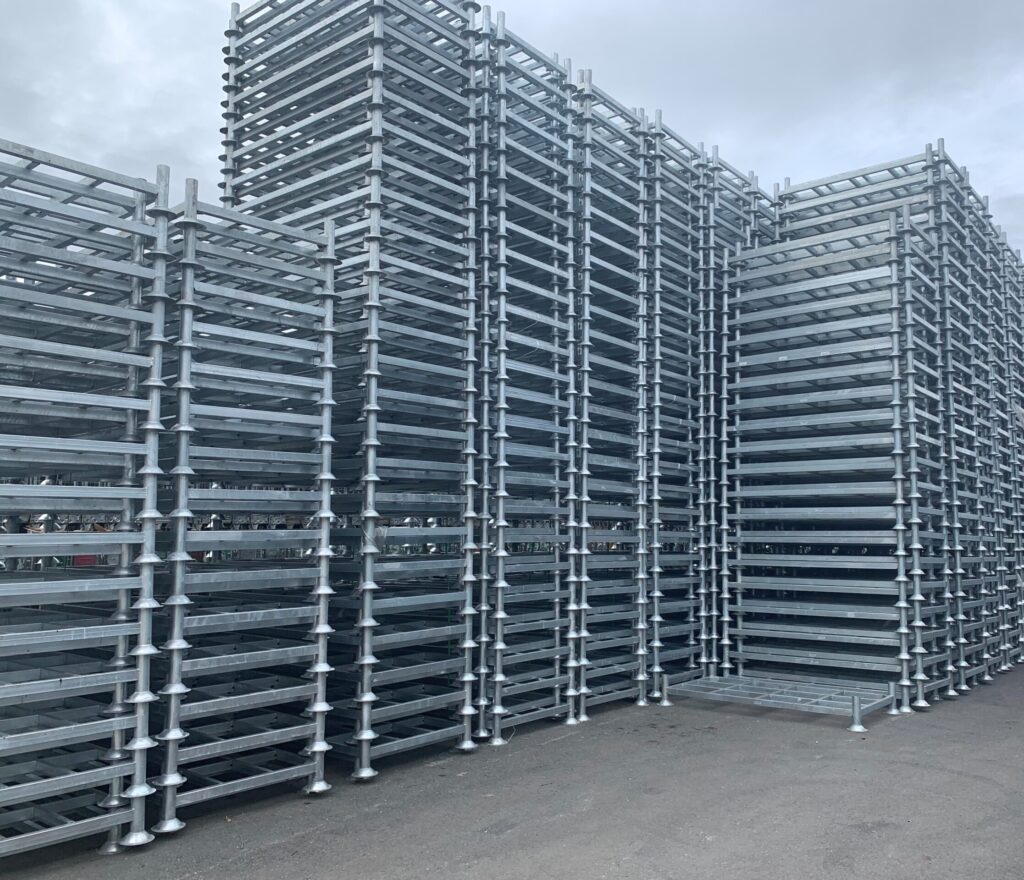 What is a stillage?
Steel stillages are heavy-duty steel pallets of various types. They all have one thing in common: stillages act as a platform to raise stored goods off the ground and to keep items separate during storage and transit. Some stillages have solid or cage/mesh sides, whereas post pallets have no sides, just posts.
What is a post pallet?
A post pallet is a stackable steel stillage with a rectangular base. These items have no sides, a post at each corner, and cupped feet for easy stacking. They are used for storage and transportation, particularly for larger, bulkier items. Post pallets are valued in warehousing environments and often used for semi-permanent storage.
Choice of finish
Palletower's steel post pallet stillages are available in two different finishes:
Heavy-duty galvanised steel with a silver appearance — the best choice for durability and weather-resistance.
Blue powder epoxy paint.
Key features of stillage and post pallets
The Palletower range of post pallet stillages consists of four size options: small, medium, large, and standard. Standard matches the size of a traditional wooden pallet.
Base sizes range from 1015 x1115mm to 2030 x 1060mm.
The following post length options are available:
1000mm – galvanised only.
1220mm – galvanised only.
1500mm – blue epoxy paint or galvanised.
1800mm – galvanised only.
Load strength varies across the different pallet sizes, with a maximum weight capacity per stillage of 800kg to 1000kg.
Demountable — Palletower post pallet stillages units are removable.
Stackable — Our post pallets can be stacked with or without the posts in place, making them doubly space-efficient: when loaded and when empty.
What's the difference between stillages and post pallets?
All post pallets are stillages, but not all stillages are post pallets. The word "stillage" is a generic term for heavy-duty steel pallets and boxes of various types. In contrast, post pallets are only one type: sideless stillages with posts and cupped feet.
For what purpose are post pallet stillages used?
Post pallets tend to be used for the storage and transportation of larger, bulkier items, including those that are already on wooden pallets or in plastic crates. Post pallets can be stacked up to four high, making them the ideal solution for goods that would occupy too much floor space otherwise.
Space-efficient and versatile, they are widely used in the following industries:
Engineering
Automotive
Warehousing
Logistics
Benefits of stillages and post pallets
Designed to carry larger, heavier items than box and cage pallets.
Large and standard sizes can accommodate a full pallet, whether European or UK size.
When loaded and stacked, stored products can be moved on and off with ease without the need to move the stillage — saving your business time.
Often used as a semi-permanent storage solution.
Posts can be removed and laid flat on the base, so the pallets take up as little storage space as possible when not in use.
For return logistics, demountable posts improve vehicle space-efficiency, also reducing transport costs.
Large weight capacity, ideal for storing large machinery and bulky parts as well as full pallets.
New or used, for sale or rent, standard or bespoke
The Palletower range of post pallet stillages is available new or used, to buy or rent. Bespoke pallets are also available to order.
New: Our range of new steel stillages for sale and post pallets come with solid and demountable posts. They are available in small, medium, standard and large sizes, with powder-coated or galvanised finishes.
Used: A range of used and reconditioned post pallet stillages are available. Our stringent quality checks ensure that every used product meets the highest Palletower standards.
Rent: Hire our post pallets and stillages when your business needs them most. We have vast stocks, providing the perfect solution for seasonal demand or sudden busy periods. Options include monthly repayments and flexible rental periods, so no capital outlay is needed.
Bespoke: We have the expertise to design and manufacture post pallets and stillages to your specific requirements. Our team have more than 50 years of factory floor and warehouse storage solution experience.
Why choose Palletower?
Palletower is the UK's leading manufacturer and stockist of steel pallets and stillages for sale, including post pallets. With more than 250,000 items in stock at any given time, plus vast manufacturing capacity, we can always meet demand with immediate despatch.
In the UK, we have an experienced design team, ready to solve the most complex stillage requirements. For larger volumes, our Chinese factories give us the capacity to respond quickly and deliver projects to the highest quality.