Blog
What are Pallet Cages and What are Their Benefits?
29 January, 2021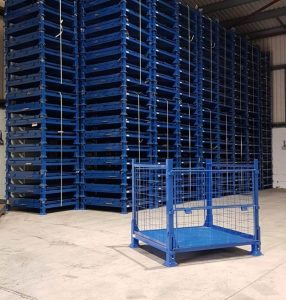 What is a pallet cage?
Anyone who works in the warehousing, retail, logistics, manufacturing or storage sectors will see many variations of pallets on an average day.
However, the differences between pallets aren't always apparent, and various names are often used interchangeably. It can be confusing, even for regular users.
As Europe's largest manufacturer and supplier of Roll pallets and related storage solutions, we thought we'd be well placed to make things clear. After all, we have more than 100 product lines and a quarter of a million products in stock!
The definition of a pallet cage
Pallet cages and cage pallets are different terms for the same thing: a steel pallet with four legs, cupped feet, a solid base, and enclosed sides made from heavy-duty steel mesh.
At Palletower, we manufacture pallet cages with a half-drop gate or a fully removable back panel. We also supply fully collapsible cage pallets.
When are pallet cages used?
Pallet cages are superb for protecting easily-damaged goods during storage and transportation. They are primarily used for storing heavy duty and bulky items, including finished products, components, offcuts and waste materials. They're also ideal for small, loose, and irregularly shaped objects that could easily slide off a flat pallet.
Benefits of cage pallets
These versatile mesh-sided steel containers are popular across every industry requiring strength and resilience in its storage solutions.
Each pallet cage we stock is built to withstand tough outdoor conditions, rough handling during transit, and general wear and tear.
The mesh infill sides allow for easy product identification, and half-gates offer easy access to contents when the pallets are stacked.
Collapsible cage pallets fold flat and stack together when not in use. This is ideal for saving space in storerooms.
Collapsibility is also advantageous in vehicles for return journeys, helping to reduce transport costs.
Cupped feet make them easy to stack and manoeuvre.
Our range of pallet cages
Options include gitterbox and stillage-style cage pallets. With a raised base and four feet designed for stability, cage pallets are easy to move by forklift or truck.
Each is a versatile solution, with a half-drop gate on one side and a fully-removable gate on the opposite side. Both models have a resilient sheet steel base, providing perfect storage for both small and bulky items. They're also finished in smart blue epoxy paint and stack up to six high. Collapsible cage pallets fold away when not in use, taking up minimal space.
The difference between pallet cages, stillages and roll pallets
A Stillage is the industry term for a steel pallet that separates and supports the contents with solid or cage sides, so a pallet cage can be one type of stillage. Roll pallets are cage-sided pallets fitted with castors or wheels. They can be easily pushed from place to place, rather than having to be lifted.
Need a bespoke solution?
We have the expertise to design and manufacture pallets to your specific requirements in any quantity. The Palletower team have more than 50 years of factory floor and warehouse storage solution experience.
Are pallet cages available for rental or hire?
As with most Palletower products, you can hire our cage pallets in large or small quantities at short notice. Rental is the ideal solution to help meet sudden or seasonal demand, avoiding storing pallets when business is quieter. Rental allows flexible hire periods, with no large capital outlay needed in comparison to purchasing the product outright.
What are the benefits of buying used pallet cages?
We offer a range of used and reconditioned pallet cages, available for immediate delivery in large quantities. Our stringent quality checks ensure that every used product meets the highest Palletower standards.
Why choose Palletower?
At Palletower, we recognise that your storage and product handling needs are numerous. That's why our experienced UK design team are ready to solve complex requirements, manufacturing in small to medium volumes. Our Chinese factories have vast manufacturing capacity and can quickly deliver larger volumes, meeting demanding deadlines for high-quality projects.