Blog
Product Release: Display and Merchandise Picking Trolleys
24 June, 2021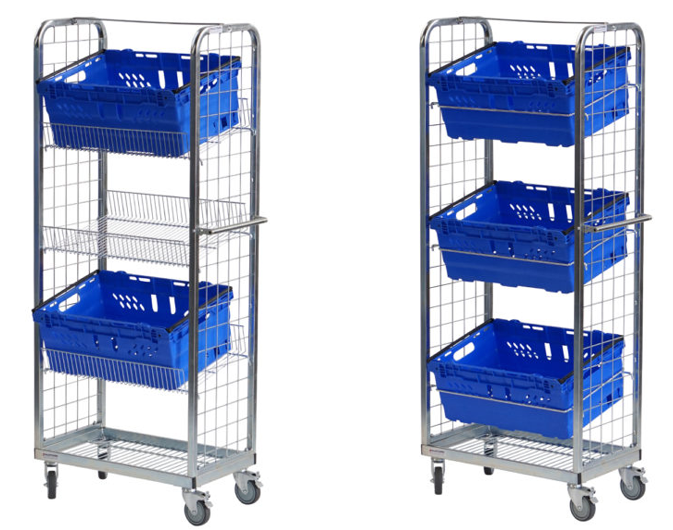 The latest edition to the Palletower fleet, is our 20.MT8 display and merchandise picking trolley and our 20.MT8.1 display and merchandise picking trolley. This is one of our most diverse and adaptable products which can be used for storage, transport and display of products in a range of environments. The diversity and adaptability of this product is created by having two interchangeable shelf types:
Both shelves can be set up on a tilt or flat to make picking and displaying easier depending on the environment they are in.
U shelf – is a mesh shelf ideal for picking smaller products into, for example e-commerce orders or displaying product on a shop floor. The shelf can be placed at many varying heights with flexibility to add and remove shelves to suit the products whilst been transported stored or displayed.
C shelf – designed to hold crates this shelf is ideal if the merchandise trolley is being used for restocking a shop floor, manoeuvring around a warehouse or narrow storeroom. Four crates can be accessible at any one time.
The Merchandise and Picking Trolleys are ideal for all kinds of environment including warehousing, e-commerce, retail, and various service sectors.
Additional features:
Horizontal hinged handlebar to one short dimension for easy manoeuvrability (can be folded away when not needed to save space).
Heavy duty rod base with 500kg capacity
Top bar to improve rigidity of unit and reduce noise through vibrations
Non marking noise reducing rubber castors – two with brakes to prevent the unit moving when displaying products.
Bright zinc plate finish
Dimensions: 410 x 710 x 1710mm