Blog
Retail logistics planning for Christmas 2019
13 February, 2019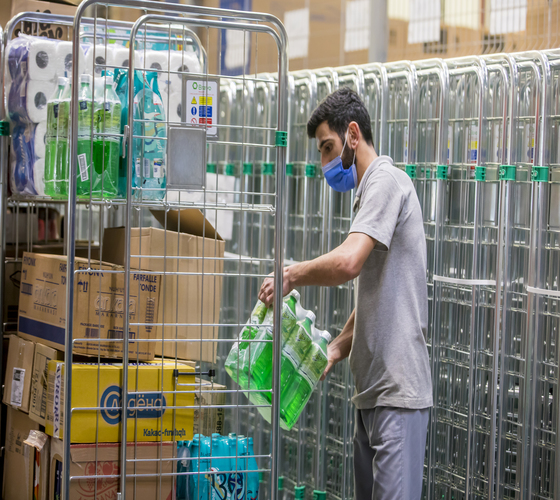 Choosing the right logistics equipment will keep your festive orders moving
Christmas 2018 was billed as the 'toughest in living memory' for Britain's retailers as high streets across the country braced themselves for a harsh period of festive trading.
However, record numbers of shoppers on Boxing Day defied the sceptics and provided retailers with a much-needed boost. Figures from vouchercodes.co.uk and the Centre for Retail Research revealed 17.8 million shoppers packed Britain's high streets with a further 9.8 million purchasing sale items from the comfort of their own homes.
Sales hit a record £4.75bn, of which £1.04bn were online sales, a 20 per cent increase on 2017. Two of Britain's biggest retailers, Next and the John Lewis Partnership, announced strong sales for December 2018 and in particular the final days in the lead up to Christmas.
How do retailers keep stock moving?
Global logistics equipment provider, Palletower, performs a vital role for some of the UK's largest supermarkets and high street stores, transforming the supply chain network and revolutionising the transportation of goods and warehouse operations.
Manchester-based Palletower, supplied an estimated 250,000 roll pallets to support retail, warehousing, storage and logistics in 2018, ensuring retailers could deliver product to store and logistics companies could deliver, on time, the growing requirements of e-commerce.
Lee Spratt, Sales Director at Palletower, said: "We've had long-standing relationships with a number of major retailers and have worked closely with them to understand their needs and how best we can support them during the festive season as well as across the year.
Over the years there has been a monumental rise in e-commerce which means that supply chain networks are continually improving the way they operate to cope with the increased demand for goods of all shapes and sizes to be delivered as quickly as possible. Businesses are looking for ways to minimise damage and keep operations running smoothly.
Our storage and logistics equipment is all built with the idea of improving supply chains and increasing productivity."
To help you plan ahead for your festive orders in 2019, and to keep your goods moving efficiently throughout the year, the team at Palletower has put together a guide to its top 5 tools for retail logistics:
Roll Pallets
Strong, versatile and easy to store, roll pallets are the most popular product that Palletower sells and rents, with over forty variations to meet every business requirement its customers have.
All Palletower roll pallets are reinforced, providing load capacities of up to 600kg, and use an industry leading design which increases product lifespan and helps reduce maintenance costs. When not in use, they neatly fold and nest together, significantly reducing the amount of storage space required. Hinged and loose shelf options, including several door-opening options, provide greater versatility when moving and storing varying sized objects.
Palletower also offers bespoke features such as coloured frames and castors, identification plates and various gate configurations to suit customers' specific requirements, as well as standard additional features such as security lids and retaining straps.
Plastic Boxes
Rigid, collapsible or wheeled, Palletower plastic boxes are suitable for a vast range of environments and applications and provide practical bulk storage for retail, food, agriculture, warehousing, engineering, logistics, manufacturing, recycling and general industry.
Stackable to save space when not required, they are available with either four or six feet and many models can be fitted with skids.
Palletower offers a range of both new and second hand box pallets. Its 'once used' box pallets are another option. They have invariably been used just the one time to store and transport citrus fruits. All are available to purchase or for hire.
Stillages
The Palletower range of stillages and post pallets offers permanent or temporary storage solutions to stack pallets or other stackable products such as plastic boxes or the goods themselves.
With a range of designs, sizes, materials and finishes, including solid galvanised and demountable fixtures, and powder-coated or non-powder-coated finishes, they can be used outdoors for warehousing, storage and logistics.
Hypacages
These freestanding cages offer a convenient method of safe storage, handling and retention of goods and products above ground level. Used in variety of warehousing environments across a multitude of industries, they are perfect for storing loose, awkward sized or unstable products that need to be retained safely.
Hypacages don't require any additional pallets or packaging in order to store products, and where multiple cages are in use, they can be stacked on top of each other, creating a racking system so no shelving or racking is required.
Many businesses use the hypacages as an efficient and convenient way of transporting products without the need of pallets or additional packaging, which has the added benefit of enabling them to make full use of the height of their vehicles and trailers.
Returnable Transport Packaging (RTP) is a significant benefit of a Hypacage too. The sides of these stackable wire mesh cages will collapse, folding to a third of original height; with a 3:1 return ratio. Not only does this save valuable storage space when stowed but better utilises vehicle and trailer space for return journeys, reducing transport costs.
Pallet collars
Last year, Palletower designed and manufactured a foldable, easy to use plastic collar. The idea of the collar was to alleviate many of the problems that customers faced from handling the variety of shapes, sizes and weights of products being delivered through e-commerce. Packages such as the plastic bag style envelopes used by online clothing retailers are impossible to stack. Plastic pallet collars simply overcome these issues, increasing the height to accommodate more loose products as necessary.
With over a quarter of a million items in stock at any one-time Palletower is the global leader and premier UK stockist, manufacturer and supplier of world class storage and logistics equipment. All Palletower products are available to buy or rent and stock levels are maintained to provide customers with immediate availability.