Blog
Stillages: designed for textile storage
16 July, 2020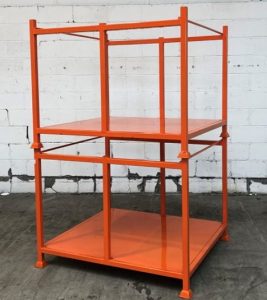 As the UK's largest manufacturer and stockist of storage, handling and distribution products, Palletower offers the best deals on a vast range of used products. The UP706P, a used heavy-duty Stillage, is now in stock with large quantities ready for immediate despatch.
Designed initially for the textile industry this bespoke stillage is ideal for storing rolls of fabric. The sheet steel base with orange paint finish, not only helps the stillage standout for identification but leaves a smooth service stopping any materials from snagging or been damaged. Previously this stillage has only been used inside, leaving them in great condition and virtually rust free. The heavy construction on the box sections allow stacking up to five high when loaded to capacity, this help to use the full capacity of the warehouse and will free up more floor space.
The base of the stillage is fitted with cupped feet for easy stacking when stored or stacked in a warehouse. This along with support bars underneath the sheet steal base (that add strength and a place for forks to rest when moving) make it easy to move around, load, stack and store your product.
The versatile design of the UP706P means this stillage is ideal for storage of a multitude of different product not just textiles.
Key Features:
Over 200 in stock
Dimensions 1220 x 1350 x 1020mm
Internal dimensions 1080 x 1300 x 800mm (from base to tie bar)
Stackable up to 5 high
Cupped feet for easy stacking
Box section on the long dimensions for strength
If you're looking to purchase new products, view our range of stillages for sale.