Blog
What is a Hyapcage?
1 January, 2020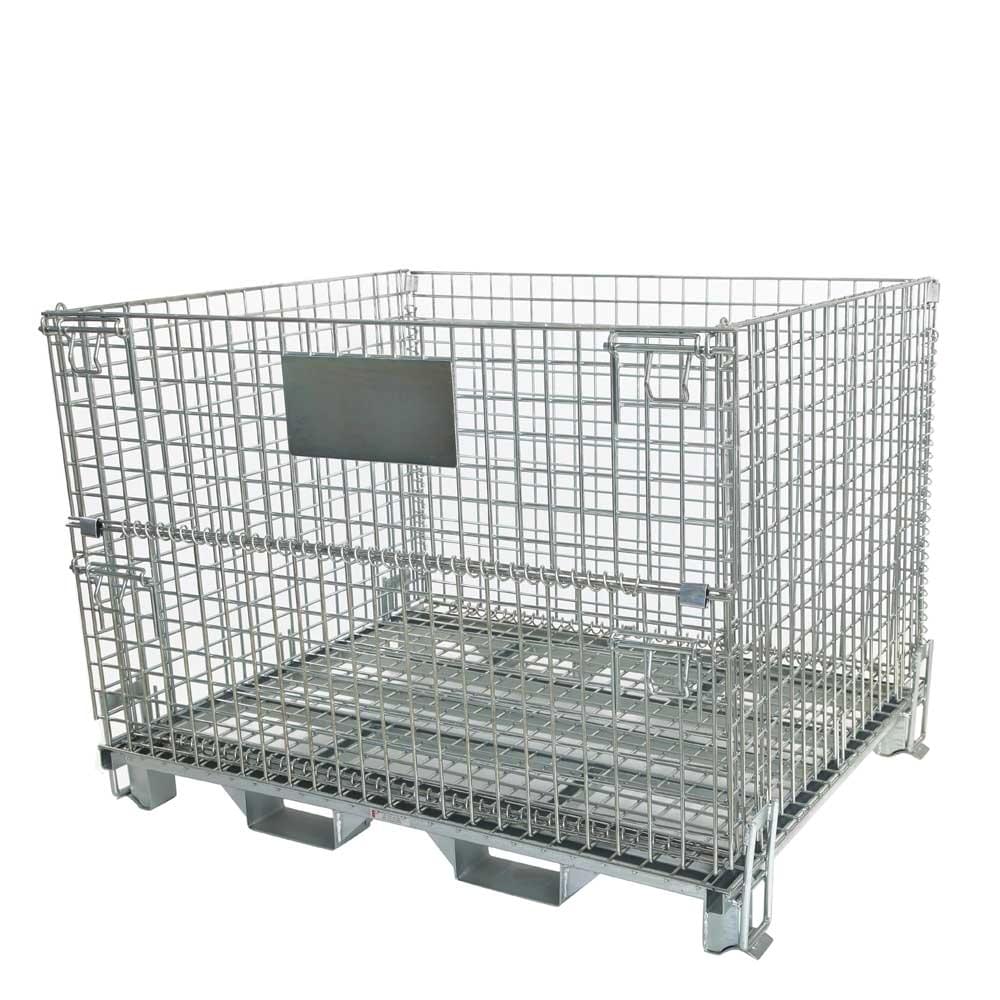 A Hypacage®, by definition is a freestanding cage used as convenient method of safe storage, handling and retention of goods and products above ground level without the need of conventional timber/plastic pallets or shelving equipment or systems. Palletower manufacture hypacages and Hypacage® is one of their registered trademarks.
Knowing Your Hypacages®
Hypacages are often referred to as Cage Pallets, Cage Stillages, Wire Mesh Storage Cages, Stackable Mesh Cage Pallet, Collapsible Cage Pallet or simply Stillages. Whatever you know them as, their functionality remains the same. Once seen never forgotten!
Construction
Consisting of a base unit attached to four specially design feet in each corner and four sides, with one side constructed for the purpose of a split gate for access. Traditionally manufactured in high strength bright zinc plated steel wire, the sides and base unit are constructed in a mesh configuration in varying sizes, starting at 50x50mm.
Palletower's Rackable and collapsible Hypacage, allows for all four sides to fold flat on top of the base. The sides and gates are hinged in various positions to facilitate this functionality. When in use, the sides simply fold back up again to create the storage cage.
Features
Returnable Transport Packaging (RTP) is a significant attribute of a Hypacage, and where it comes into its own when empty. The sides of these stackable wire mesh cages will collapse, folding to a third of original height; with a 3:1 return ratio. Not only does this save valuable storage space when stowed but better utilises vehicle and trailer space for return journeys, reducing transport costs.
Usage and Benefits
Hypacages can be used in variety of warehousing environments across a multitude of industries. They are perfect for storing loose, awkward sized or unstable products that need to be retained safely. Hypacages do not require any additional pallets or packaging in order to store products. Goods are simply stored within the cages above the ground level protecting them damage from the ground and sides. Furthermore, where multiply cages are in use, Palletower's Hypacages can be stacked on top of each facilitated by the design of the feet, creating a racking system and therefore no shelving or racking required. Access to contents is via the split gates at the front of the cage. Stackable Hypacages are quick and easy to use, within moments cages are assembled and functional. Many businesses utilise the hypacages as an efficient and convenient way of transporting products without the need of pallets or additional packaging and maximising the height of vehicles and trailers; particularly given their RTP properties. Far more cost efficient and environmentally aware, using hypacages is often less labour intensive improving productivity.
Size and Styles
Palletower's Hypacage units are available in a range of base sizes ranging from 800 x 600mm (Half Euro) to 1000 x 1500mm (Jumbo). Cages can be stacked between 4 and 5 units high, therefore maximising floor space. All cages feature half drop gates making it easier for loading and unloading products. Ideal as a 'Picking Cage' were products are regularly picked and replenished. So often use as an alternative to conventional racking systems in many warehouses, whether as a temporary or permanent storage solution. Palletowers range of styles includes:
A mesh security lid is available for selected models for added protection of cage contents. Fork guides are fitted to the Heavy Duty model 15.SJA2/FG.