Jumbo Hypacages For Sale
If you have problems storing or transporting large quantities of loose, heavy, and odd-shaped goods, then our range of Jumbo Hypacages offer the perfect solution. They are ideal for protecting products, simplifying movement, and saving space.
Manufactured from strong, resilient, steel mesh with a bright zinc plate finish, Palletower's Jumbo Hypacages are a popular alternative to conventional wooden and plastic pallets. These products are also widely used across the manufacturing, warehousing, and logistics industries.
Our Jumbo Hypacages are the biggest, most robust option within the Palletower Hypacage range.
Available for sale, lease, or rent with immediate delivery in large quantities across the UK and Europe.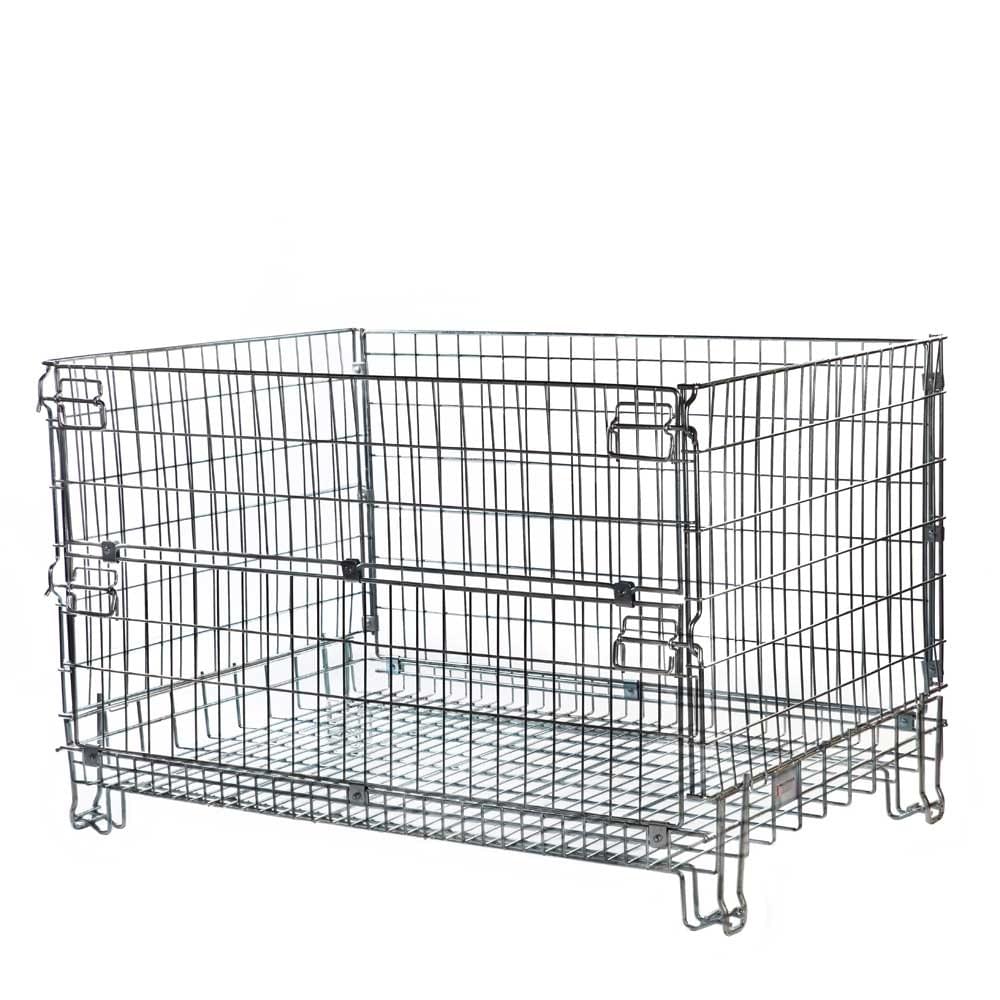 More Information
Jumbo Hypacage features
Size: 1000x1500x1000mm

Internal height 800mm

Load capacity 600kg

Construction: steel mesh with bright zinc plated finish

Stackable up to 4-high

Fully collapsible, folding flat when not in use

Mesh size 65x120mm

Half-drop gates

Height when collapsed: 280mm
Jumbo Hypacage benefits
Maximise floor space, stackable up to four units high.

Space-saving when not in use — hypacages fold flat in seconds.

Excellent Returnable Transport Packaging (RTP), occupying minimal space in vehicles for return journeys.

Ideal for storing and transporting large, heavy, awkward-shaped loose items off the ground, without requiring additional packaging.

No pallet racking required.

Robust steel mesh construction.

bright zinc plate finish.

Easy access to stored products via a half-drop gate on one long side.
Which Industries use Jumbo Hypacgaes?
Jumbo Hypacages are perfect for various warehouse and storage environments, spanning manufacturing, retail and logistics. They're suited to any spaces that require strong, versatile storage. Rugged steel mesh and zinc plate finish also mean Jump Hypacages are equally suited to indoor and outdoor use.-delete this line completely.
Similar Products to consider
At Palletower, we offer a choice of different hypacage options, all strong, stackable, collapsible and with easy-access half-drop gates.
Standard hypacages with optional dividers and security lids.

Heavy-duty hypacages.

Rackable hypacages with heavy-duty steel sheet base.
Why choose Palletower?
Palletower hypacages are available in the UK and worldwide to buy, lease, or rent.
Quantity is never a problem; we have more than 250,000 items in stock at any given time, ready for immediate dispatch.
Hypacages are just one aspect of our world-leading expertise. We also offer extensive storage, handling, and distribution solutions, from pallets and cages to stillages and boxes. Over 100 product lines in all, making us the UK leader and Europe's most diverse stockist.
Do you need hypacages immediately? Or are you looking for a bespoke solution? In either case, contact the Palletower team at any time.