Blog
What is a Plastic Pallet Collar?
9 July, 2018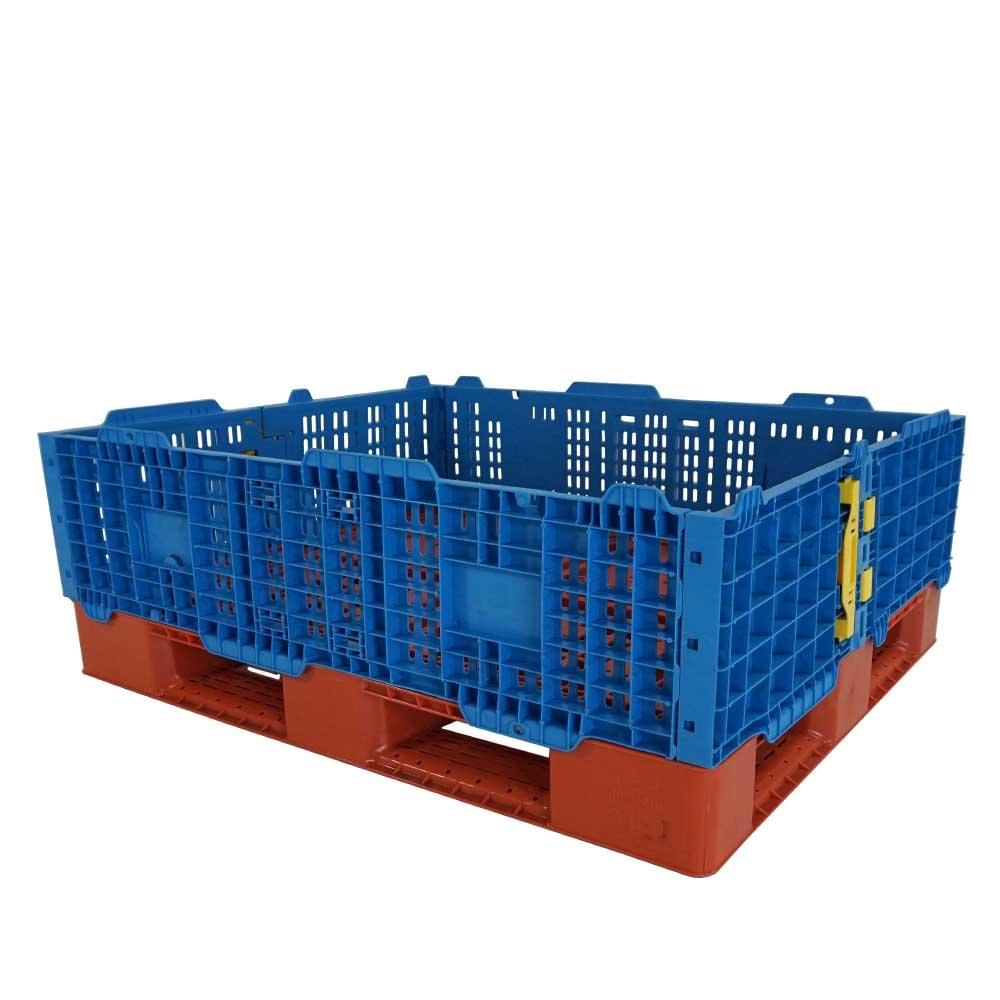 Plastic Pallet Collars are essentially a reusable form of packaging. Often referred to as Pallet Sleeves, they are the perfect solution to significantly reducing packaging weight and waste. Moulded from tough virgin polypropylene, they consist of four sides and joined together at the ends to create a frame 1200 x 1000mm x 300mm in depth. Each corner is hinged, and the two shortage length sides have a patented snap lock mechanise that enables them to collapse and fold flat, making them incredibly space saving. What do they do? Pallet collars are used in conjunction with timber or plastic pallets to securely retain and protect palletised goods during transportation from spillage and side impact damage. They are designed to be used with a standard 1200x1000mm pallet and fit around the perimeter of the pallet to protect the contents. Palletower's collars are 300mm in depth, allowing them to be stacked and built up around the pallet contents at variable heights as required.
Why are Plastic Pallet Collars a Better Solution?
The common Pallet Collar is made of wood as it is cheap and robust. However, timber can often become splintered and tear open packages or even products themselves, causing issues throughout the supply chain. Palletower's plastic collars have smooth interior walls that do not tear or snag the palletised goods. Plastic pallet collars are extremely robust and strong but relatively lightweight. This not only means that they can withstand a bit of hammer, but are easily handled by a single person making it much easier to fit and remove from a pallet. Pallet collars made from timber can be effected by environmental conditions such as rain, this can effect long term efficiency. Plastic collars are significantly more versatile, can be used outside with no fear of damage by the elements. Furthermore, their design makes them easier to maintain and clean. Compatible with Palletower's Drop-on-Lid (COPAG11). Palletower have invested heavily in the design of a mould to manufacture the plastic collars, providing consistency of dimensions throughout production ensuring exact sizes each time you order. Furthermore, the moulding process allows for bespoke colours and branding options for businesses to have their plastic pallet specific to them. This not only supports brand awareness but significantly reduces the losses within the supply chain. Far more protection than some traditional methods, with a reduction in throwaway packaging such shrink-wrapping, cardboard corner protectors and top boards.
Space Saving and Excellent Returnable Transit Packaging (RTP)
The foldable design of the plastic pallet collar significantly reduces the amount of space required when not in use and will packed 8:1; perfect for storing when not in use. This also has a positive impact for return journeys, maximising vehicle space an ultimately reducing return transport costs.
Benefits of a Plastic Pallet Collar:
Ergonomic design for imporved handling.
Reinforced interlocking tabs and fewer working parts increases operational life and ultimately lower maintenance costs.
Reduction in product damages, with greater protection of palletised products during transportation, essentially where most damage occurs.
Patented Snap-Lock design to improve overall assembling and collapsing of collar
Great piece of RTP.
Stackable providing a variable height from 300mm upwards.
Smooth internal walls virtually eliminates snagging.
Perfect for loose pallestised items, reducing shifted and spilled loads.
Easier to clean.
Can be packed 8:1 making it perfect for storage and warehouse use
Bespoke colour options available to coincide with brand image
Can be used with both wooden and plastic pallets
Industry Usage
Plastic pallet collars has a huge range of applications, whether you're looking to protect palletised products for storage or during transportation between destinations such as warehouses and distribution centres, or indeed direct to retail. Popular throughout E-commerce industries for retaining variable size cartons and loose packages during collections and deliveries. Packages such as the plastic bag style envelopes are impossible to stack, add into this differing sizes of parcels will cause issues. Plastic pallet collars simply overcome these issues, each stacked collar increasing the height to accommodate more loose products as necessary, up to approx. Overall, the plastic Pallet Collar is a great alternative to the standard wooden version and is worth considering when looking at ways to improve the day-to-day efficiencies within your supply chain.